Language: Dutch (English, Spanish, & Papiamento widely spoken)
Currency: Netherlands Antillean florin or guilder
Temperature: Average 80°F year-round
Square Miles: 180
Approx. Population: 148,000

Curacao, the largest of the Netherlands Antilles islands, lies between Aruba and Bonaire. It is a trading port, and people of more than fifty different nationalities call this island home. The official language is Dutch, and Curacao has a strong Dutch influence reflected in its building architecture and foods. In the capital of Willemstad, the buildings look like those in Holland. Many of Curacao's students even study in Holland and then remain there to work.
Curacao is rich with history and culture. The pastel buildings are due to a decree in 1817 by governor Albert Kikkert, who complained that glare from the originally white buildings gave him headaches. The famous Mikve Israel-Emmanuel Synagogue was built by early Jewish settlers in 1732. Every day, the floor of the synagogue is sprinkled with sand, perhaps to symbolize the Israelites wandering through the desert during the Exodus or as a tradition birthed out of necessity during the Inquisition, when the sand muffled the noise of Jews worshiping in secret. Curacao's history from the slave-trade era is remembered in the Museum Kura Hulanda, part of the recently built Kura Hulanda complex. Another relic from Curacao's past, Fort Amsterdam, now serves as Curacao's parliament building.
Recent Curacao News
The Best Hotels In Curacao
Whether you prefer romantic getaways or expert scuba diving, Curacao has a hotel for you.
By Fiona Tapp, Contributor. Forbes. Thursday, 24 Oct 2019 13:29:00 +0000.
How Charlie I'Anson became English pioneer in Spain
There are twice as many footballers from the island of Curacao playing in England's top divisions as there are English players in Spain but Real Murcia's Charlie I'Anson is happy to be in the minority.
The Local. Saturday, 19 May 2018 03:55:13 +0200.
Because of its sunny climate, secluded coves, and small, white sand beaches, Curacao has become a tourist destination. The dry landscape supports cactus and aloe plants. Water comes from desalination plants. Hotels are spread throughout the island, and there are plenty of opportunities to try local food such as conch meat, stewed goat, lobster, and plantains. In Willemstad, vendors in the Floating Market offer tropical fruits and spices, as well as kingfish and dorado fillets. Local bands play Latin American and Caribbean music. There are various things to do such as visit the Hato Caves and Boca Tabla caves. Landhouses are an attraction and tell the history of slavery on this island. And, of course, there is shopping for Latin American and European items.
Netherlands Antilles Map (including Curacao)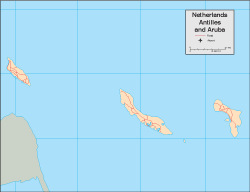 Click map to enlarge.

Curacao Travel Information
---
Copyright © 2005- Zeducorp.
All rights reserved.

Netherlands Antilles:
Curacao