Languages: Dutch (English, Spanish, and Papiamento widely spoken)
Currency: Netherlands Antillean florin or guilder
Temperature: Average 82°F year-round
Square Miles: 112
Approx. Population: 13,000

Bonaire, a thinly populated, barren-looking island, is part of the Netherlands Antilles. While the island itself is the top of an underground mountain in the Caribbean Sea, the surrounding water is a world-famous diving area. The entire west coast has coral reefs, and water sports draw many of the island's tourists. While windsurfers flock to Lac Bay, divers and snorkelers are lured by the 111-square-mile Bonaire Marine Park and about 370 underwater species. The underwater area is protected so it will remain pristine.
Flamingos in the Caribbean at Bonaire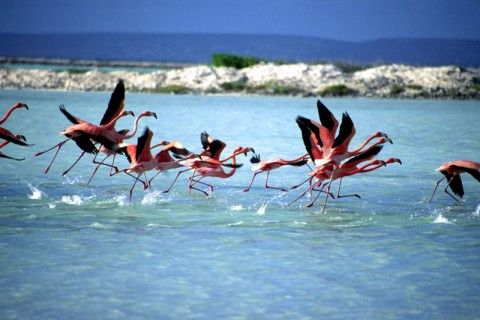 Bonaire was colonized as a military base by the Dutch in 1634, who used it to graze cattle and goats. Later, the Dutch West India Company produced salt by evaporating sea water. Salt was necessary for preserving meat and fish. While salt remains an export, tourism is now the major foreign currency source.
House with shuttered windows and door on Bonaire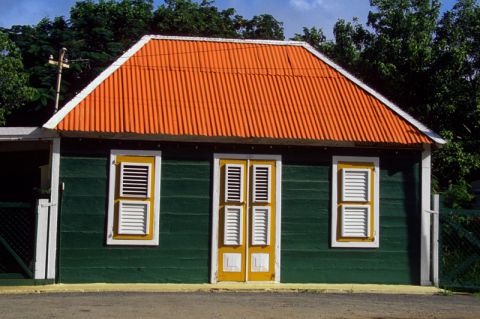 In this former Dutch colony, quaint, Old World towns and Dutch-speakers still remain. In the capital, Kralendijk, colorful houses and an arched fruit market contribute to the charm. Little Fort Oranje, constructed during the 17th century, is located near the town pier. Kralendijk is rarely busy unless a cruise ship docks. The inland town of Rincon is the oldest on the island; it served as a slave settlement and a hideaway from pirates during the 16th century.
Blue country house with red roof on Bonaire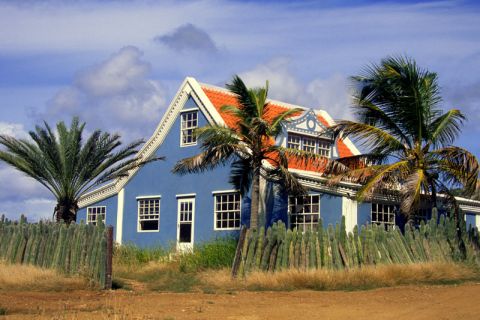 Besides underwater critters, many animals live on Bonaire's 112 square miles of land. Iguanas, roadrunners, and birds live in the Washington Slagbaai National Park, where curious rock formations, such as Seru Bentana, add to the landscape. More than 10,000 pink flamingos nest in the Flamingo Reserve, on the southern salt flats of the Pekelmeer, and wild donkeys roam the countryside. Other donkeys reside in the Donkey Sanctuary, where you can meet them up close.
Bonaire can be reached by air or boat. There are quite a few resorts and inns, and restaurants offer a variety of menus including local fare such as fish and conch.
Netherlands Antilles Map (including Bonaire)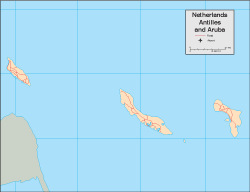 Click map to enlarge.

Bonaire Links
---
Copyright © 2005-2022 Zeducorp.
All rights reserved.

Netherlands Antilles:
Bonaire