Language: English
Currency: U.S. dollar
Temperature: Average 85°F winter, 90°F summer
Square Miles: 59
Approx. Population: 21,000

The British Virgin Islands (BVI) are composed of about 60 islands, islets, and cays, with Tortola leading all the others in size and population. These islands are of volcanic origin except for Anegada which is coral and limestone. Temperatures range between 75 and 80 degrees all year. Tradewinds keep the air pleasant. The beaches are white powdery sand, and the water is a crystal clear blue. The islands look green with palm trees, sea grape trees, and massive blooms of bougainvillea and hibiscus, especially in summer. Sailing yachts are frequently seen skimming over the water, and there are numerous marinas.
Long Bay beach on Tortola, British Virgin Islands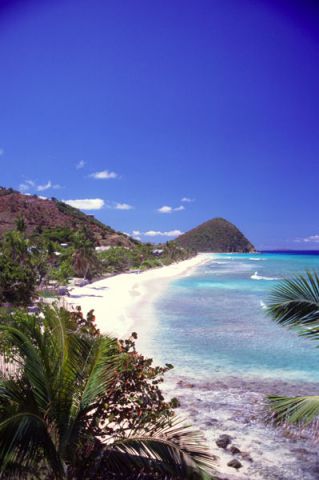 Recent British Virgin Islands News
---
Amerindians and other tribes originally settled these islands. Christopher Columbus was the first European to sight the Virgin Islands, in 1493. Pirates frequented the area. But eventually the English won out over the Dutch, French, Spanish, and Danish, who were all contending for control of the islands. After a prosperous period of sugar cane plantation settlement and rum production, the economy has mainly turned to tourism.
Aerial view of Savannah Beach on Virgin Gorda, BVI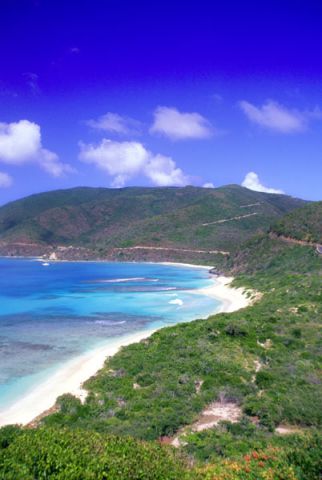 Possible accommodations in the British Virgin Islands include resorts on "private" islands, traditional hotels, very small hotels, villas, and apartments. The islands are perfect for weddings and honeymoons. Dining options include upscale restaurants, beach bars, and surf shacks.
Boulders on Gorda Bay beach in British Virgin Islands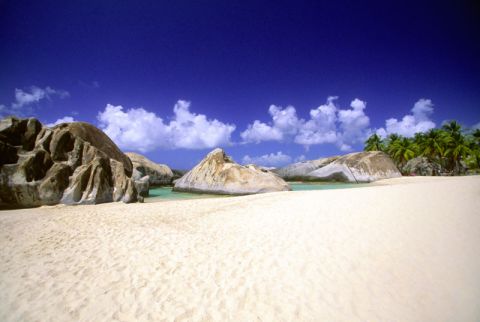 Boat lovers may also opt for a yacht holiday. With their closely-spaced, sheltered islands, constant trade winds, and many marinas, the British Virgin Islands offer sailors the ideal sailing environment for exploring secluded beaches. Marlin and wahoo fish attract deep-sea fishermen; coral reefs and the shipwrecked HMS Rhone promote the popular Caribbean activities of snorkeling and scuba diving. Other water activities include windsurfing, swimming with dolphins, and parasailing as well as sea kayaking, surfing, and bonefishing.
British Virgin Islands Map - BVI Map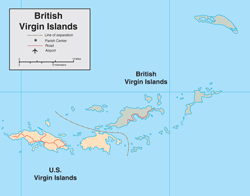 Click map to enlarge.

British Virgin Islands Links
Anegada

Anegada is the only coral island in the British Virgin Islands group. This flat and sandy island features quiet beaches and has limited accommodations. There is only one town on the island, but almost 300 wrecks in the area make it attractive to divers.

Guana Island

Guana is a small, private island with a single resort. Visitors can rent a room there or reserve the whole island!

Jost Van Dyke

Only three square miles in size, Jost Van Dyke has beautiful beaches, and several bars, including the famous Foxy's. Colorful houses overlook the water. This mountainous island is surrounded by the nearby islands of Little Jost Van Dyke, Green Cay, and Sandy Cay.

Peter Island

Peter Island, with its jagged coastline and sandy beaches, lies south of Tortola. While it can only be reached by sea, it has a luxury hotel complex. The island is covered with lush vegetation, and the coves are perfect for boat anchoring and swimming.

Tortola

Tortola is the island hub of the British Virgin Islands, linking them to Puerto Rico and other Caribbean Islands via scheduled air and ferry services. On this most developed island of the BVI group, visitors will find restaurants, shops, and galleries, as well as banks and charter yacht companies. While Tortola has long, white beaches on its north side, the center of the island still has rain forests. There are also mango and banana plantations on the island.

Sailboats at Frenchman's Cay harbor, Tortola, BVI

Virgin Gorda

The famous Baths, formed out of giant boulders on the beach, attract visitors to the island of Virgin Gorda. The northern part of the island features a large bay dotted with small islets. The central part of the island is mountainous, while the southern part is rocky and flat.

The Baths on a Virgin Gorda beach, British Virgin Islands
---
Copyright © 2005-2023 Zeducorp.
All rights reserved.

Virgin Islands: BVI • USVI
British Virgin Islands