Language: English and local Patios
Currency: Eastern Caribbean dollar
Temperature: Average 65-85°F winter, 75-95°F summer
Square Miles: 238
Approx. Population: 153,000

St Lucia, the second largest of the Windward Islands, is located between St Vincent and Martinique. The island is now independent, but British and French cultural influences remain from periods when those nations ruled the island.
Boat on beach near Pitons at Souffriere, Saint Lucia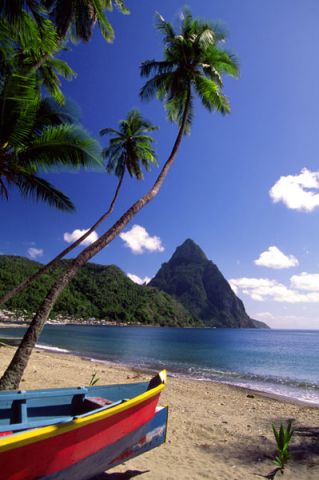 St Lucia is a top Caribbean island choice for honeymooners and jazz lovers, with a beautiful, romantic environment and a famous ten day jazz festival. The southern town of Soufrière is the stepping off point to see and visit several volcanos, enjoy the hot sulfur baths at the Soufrière Botanical Gardens, or go scuba diving and snorkeling at the Anse Chastenet Reef, a marine habitat protected by the Soufriere Marine Management Area. History buffs will be interested in the Balenbouche Estate, a working sugar plantation in the southern town of Choiseul. Nature lovers will prefer the east coast for the colonies of frigate birds found in the Fregate Island Nature Reserve. Organized hikes are also available into the island's protected rainforest areas. The Barre de I'Isle Trail and the longer Central Rainforest Walk are two of the popular hiking tour routes in the heart of the island.
Sunset with palm tree on Marigot Bay, St. Lucia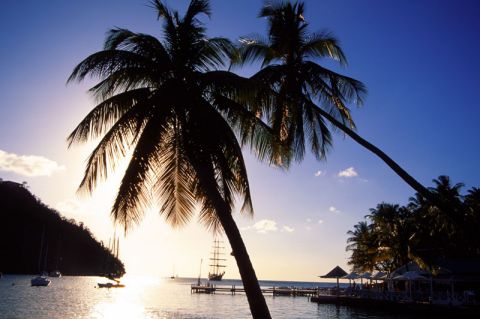 St Lucia's capital city of Castries is located on a natural harbor bay that lends itself to cruise ship docking. Here, visitors can shop at duty-free stores and the open-air market for luxury merchandise and island crafts as well as fresh fruit and vegetables. The city's Derek Walcott Square features a 500 year old saman tree.
View of sailboats on Marigot Bay, Saint Lucia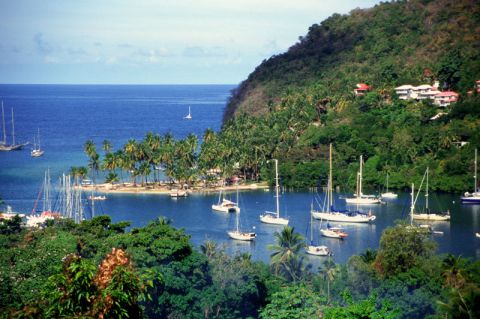 The best white beaches are located north of Castries, where a number of hotels, all-inclusive resorts, and small inns are to be found. Rodney Bay, a natural bay with a large, man-made lagoon, attracts sailors, and the Pigeon Island National Landmark, on the north side of the bay, attracts those who are curious about the Arawak and Carib peoples.
St Lucia Map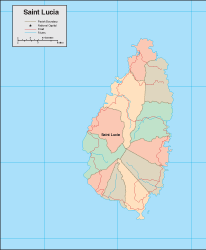 Click map to enlarge.

St Lucia Links
---
Copyright © 2005-2023 Zeducorp.
All rights reserved.
St Lucia