Language: English
Currency: Eastern Caribbean dollar
Temperature: Average 72-76°F winter, 74-84°F summer
Square Miles: 68
Approx. Population: 44,000

St Kitts and Nevis are islands in the Lesser Antilles chain. These volcanic islands, with their quiet beaches and lush vegetation, lie at the northern end of the Leeward Islands. The islands are connected by air and ferry between Basseterre, St Kitt's capital, and Charlestown on Nevis.
Rawlins Plantation Hotel, Saint Kitts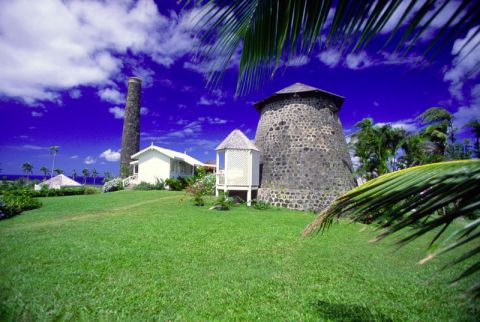 St Kitts is short for St Christopher, the name Christopher Columbus gave the island when he and the colonial world first discovered St Kitts in 1493. From about 1623 on, the economy of St Kitts and Nevis developed around their many sugar plantations and slaves. The British defeated the French for control of the two islands in 1783, and the old Brimstone Hill Fortress, an English fort built in 1690, still remains on St Kitts.
Saint Paul's and Sandy Point beaches, St. Kitts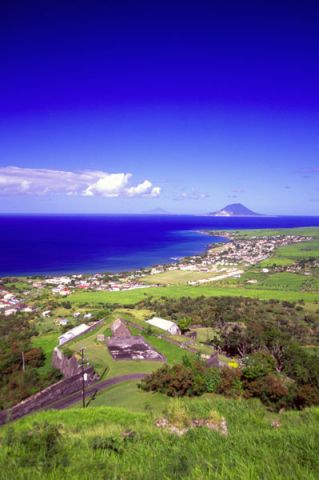 St Kitts is changing, as walled houses replace the old cane fields. The town of Basseterre has taken on a new West Indian vigor, and there is a new dock for cruise ships. Nevertheless, vintage buildings in Basseterre are being preserved, and Charlestown, on Nevis, still has gingerbread-trimmed buildings and pastel houses with tin roofs.
St. Paul's Anglican Church, Charlestown, Nevis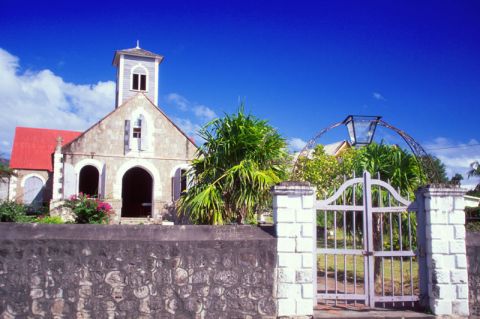 Today, tourism is replacing sugar as the driving force of the islands' economy. The train that once circled St Kitts to pick up and deliver sugar cane to the factory is now the St Kitts Scenic Railway, providing tourists with an easy way to tour the beautiful island. In like manner, the plantation houses have been converted into plantation inns, where tourists may opt to reside during their vacations. Other accommodations include the large Marriott resort on St Kitts, offering a casino, spa, and golf course, and the Four Seasons Resort Nevis, which also features a golf course. White sand beaches, fringed with palm trees and mango trees, as well as the Nevis Equestrian Center and the Nevis birthplace of Alexander Hamilton also attract visitors to these islands.
Botanical Gardens in Nevis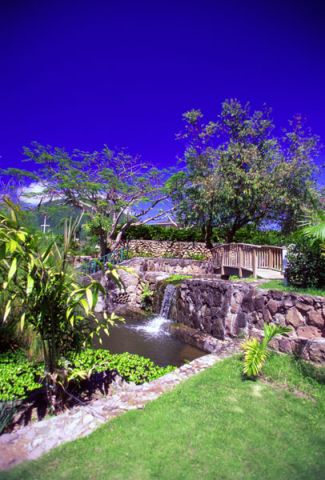 St. Kitts and Nevis Plantation Inns
Church near Pinneys Beach, Nevis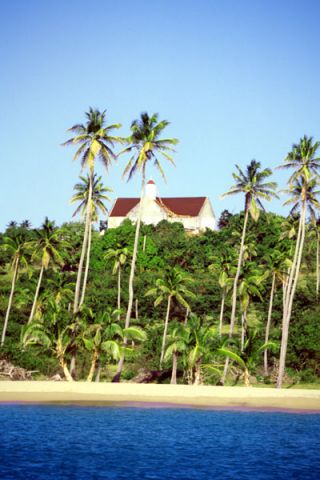 St Kitts and Nevis Map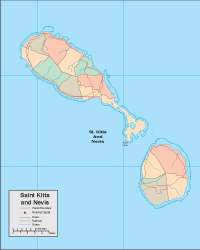 Click map to enlarge.

St. Kitts and Nevis Links
---
Copyright © 2005-2021 Zeducorp.
All rights reserved.

St Kitts