Language: Spanish and English
Currency: U.S. dollar
Temperature: Average 73°F winter, 85° summer
Square Miles: About 3,500
Approx. Population: 3.9 million

As a U.S. Commonwealth since 1898, Puerto Rico is an easy destination for American vacationers and is greatly influenced by American standards of living. However, the island still has the Caribbean's colonial charm, especially in the capital city, San Juan. Founded in 1521, Old San Juan still attracts visitors with narrow cobbled streets, art galleries, jewelry shops, clothing stores, restaurants, and numerous museums. The Museum of the Americas highlights African and indigenous history, and the San Juan Museum portrays San Juan's history. Tourists can visit several old buildings, including the La Fortaleza, El Morro and San Cristobal forts, the 1540 San Juan Cathedral, the barracks of Ballajá, and La Alcadía.
San Cristobal Fort, San Juan, Puerto Rico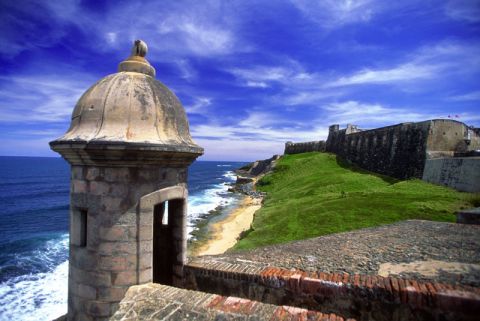 Recent Puerto Rico News
Lawmakers introduce new proposal for Puerto Rico statehood
Lawmakers introduced a bill that would set up a vote for residents to decide on statehood and the election of its own senators and representatives.
CBS News. Wednesday, 03 Mar 2021 12:10:00 -0500.
Democrats offer bill on Puerto Rico statehood
Democratic Sen. Martin Heinrich (N.M.) and Rep. Darren Soto (Fla.) announced on Tuesday they would be introducing legislation to set out a plan to make Puerto Rico a state.The bill would set up ...
Joseph Choi. The Hill. Tuesday, 02 Mar 2021 18:13:15 +0000.
---
Outside of the city, much remains as a reminder of the original islanders, the Taino People. Thousands of acres of the Caribbean National Forest, or El Yunque, was once home to the Taino people; now curious tourists can easily drive into this beautiful slice of tropics. Nature lovers can also visit La Cabezas de San Juan Nature Preserve and the Guánica State Forest. Two other spots of interest are the Arecibo Observatory, hosting the world's largest radio telescope, and the Caguana Indian Ceremonial Park, illustrating the Taino lifestyle.
El Portal Visitor Center at the El Yunque National Park,
Puerto Rico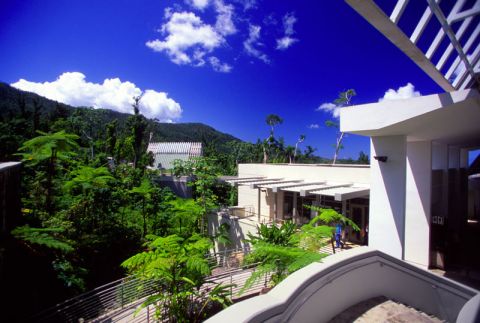 La Mina waterfalls in El Yunque, Puerto Rico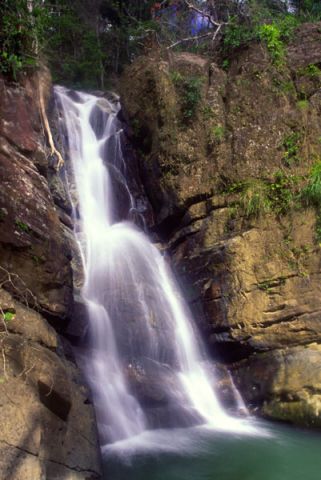 For a little more activity, play golf at one of the twenty or so golf courses, mountain bike in the forest, or ride a horse on the beach. Numerous water activities are also available, including diving, surfing, kayaking, and windsurfing as well as sailing, kiteboarding, whale-watching, and deep-sea fishing. Scattered throughout the island, visitors can find a number of quiet accommodations and secluded beaches as well as traditional hotels and resorts. After a fun-filled day in Puerto Rico, satisfy your appetite with Puerto Rican food, a unique combination of Taino, African, Spanish, and American cuisine.
People on waverunner near Luquillo Beach, Puerto Rico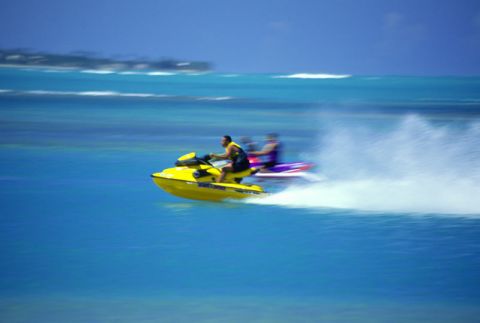 Puerto Rico Map


Click map to enlarge.

Aerial view of San Felipe Fort in San Juan, Puerto Rico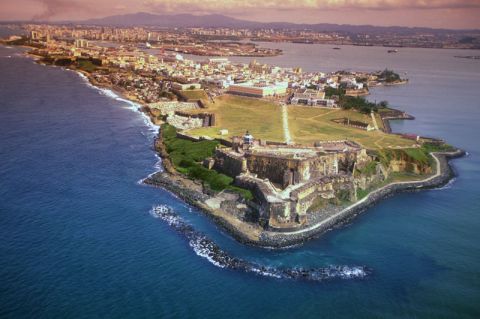 Puerto Rico Travel Information
Luguillo Beach, Puerto Rico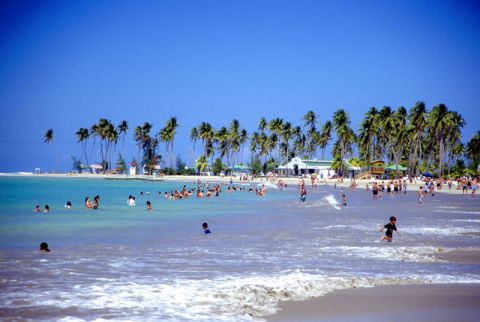 Plazuela de la Rogativa sculpture at sunset
in San Juan, Puerto Rico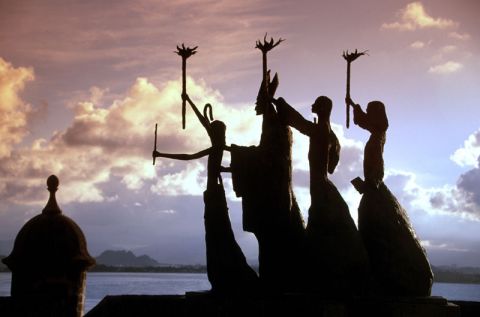 ---
Copyright © Zeducorp.
All rights reserved.

Puerto Rico