Language: English
Currency: Eastern Caribbean dollar
Temperature: Average 76-88°F year-round
Square Miles: 39
Approx. Population: 4,500

Montserrat is a small island with Irish heritage. Irish settlers came here from St. Kitts when Catholics sought sanctuary from anti-Catholic sentiments. Irish culture is still apparent today in festivals, food, and the names of towns. The island is located southwest of Antigua in the Lesser Antilles.
View of a Montserrat beach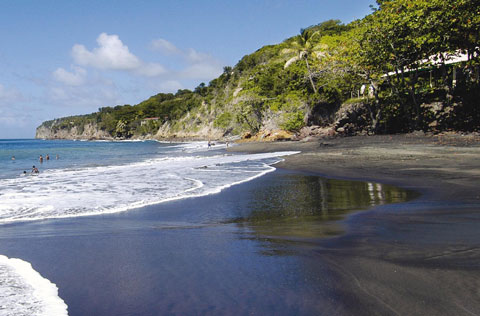 One of Montserrat's tourist draws is volcanic activity. The island continues to host a live volcano in its Soufrière Hills, which came to life in 1995 and scared off about two-thirds of Montserrat's residents. The safe zone encompasses about one-third of the island. Plymouth, the capital city, is now under volcanic ash and was abandoned in 1997. It has been called a modern day Pompeii. New government buildings have been built in Brades and in Carr's Bay at the north end of the island. The airport was also destroyed by volcanic ash, and helicopters and ferries provided transportation for curious tourists to and from Antigua. A new airport was completed in 2005.
Although the south end of the island is unsafe for visitors, the lush, tropical, northern end continues to attract vacationers to the "Emerald Isle." Most of the beaches have black sand, and you can head to Lime Kiln Bay for snorkeling or to the west coast for scuba diving. If you'd rather spend a day on land, you can hike through rain forests in search of the exotic Montserrat oriole, bridled quail dove, or forest thrush. All tourists are encouraged to check with the Montserrat Volcano Observatory before visiting the island.
Leeward Islands Map (including Montserrat)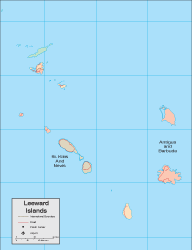 Click map to enlarge.

Montserrat Information Resources
---
Copyright © 2005-2023 Zeducorp.
All rights reserved.

Montserrat