Language: English
Currency: Eastern Caribbean dollar
Temperature: Average 75-87°F year-round
Square Miles: 133
Approx. Population: 102,000

Grenada is the southernmost island in the Windward Islands. It is a friendly and sleepy island with small villages. Areas of it are rainforest due to the 160 inches of rain that falls each year on the interior of the island.
Distant View of Carenage, St George, Grenada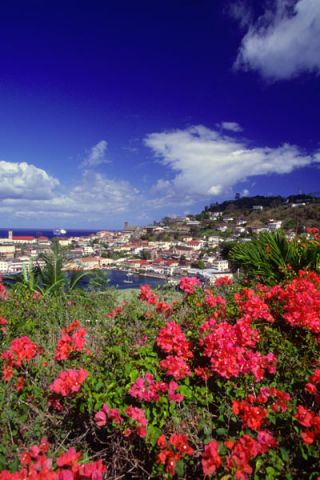 Also known as "Spice Island," Grenada's fertile soil yields abundant cinnamon, cloves, ginger, and especially nutmeg. Nutmeg was brought to Grenada in the 1780s by the British and the crop is still exported today. A nutmeg processing station can be toured in the town of Gouyave. Other crops on the island include cocoa, bananas, and citrus, as well as mangoes and coconuts.
View of Carenage, St George, Grenada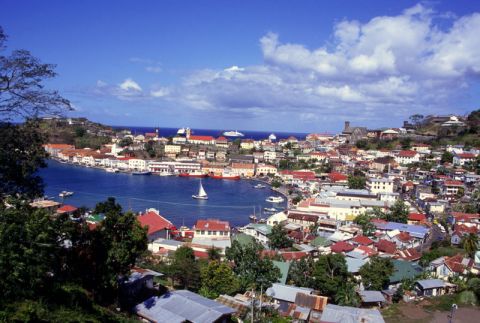 The major port and capital of St. George is charming and historical. Reputed to be the finest town in the Lesser Antilles, it has a natural harbor and a mix of French provincial architecture and Georgian stonework. Visit Fort Frederick and Fort George to learn more about Grenada's past and present. Every Saturday morning, Market Square provides colorful activity.
A few miles west of St. George, luxurious resorts offer accommodations close to the Grand Anse beach. Tourism is mostly confined to this southwest corner of the island. For some time away from the ocean, hike to Concord Falls or head inland to the Grand Etang National Park and visit the Grand Etang crater lake.
North of Grenada, the island of Carriacou is only a day trip away. The port of Hillsborough and Paradise Beach offer relaxing settings for visitors. For an even more remote setting, Petit Martinique is home to just a few hundred residents, rocky beaches, and some guesthouses.
Grenada Map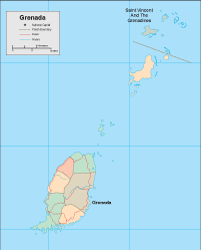 Click map to enlarge.

Grenada Travel Information
---
Copyright © 2005-2023 Zeducorp.
All rights reserved.

Grenada