Language: Spanish (English widely spoken)
Currency: Dominican peso
Temperature: Average 80°F year-round
Square Miles: 18,800
Approx. Population: 7.8 million

With the longest beachfront in the Caribbean and thousands of square miles in land area, the Dominican Republic has plenty to offer. Ocean-related water sports include windsurfing and kiteboarding at Cabarete, scuba diving at La Caleta Marine Preserve, home of the shipwrecked Hickory and Capitan Alcina, snorkeling off the Costa del Coco (Coconut Coast), and fishing for blue marlin and barracuda. Approximately 3,000 humpback whales live in Dominican waters during the winter, and visitors can watch whales near the Samana Peninsula.
Palm Tree on Punta Cana Beach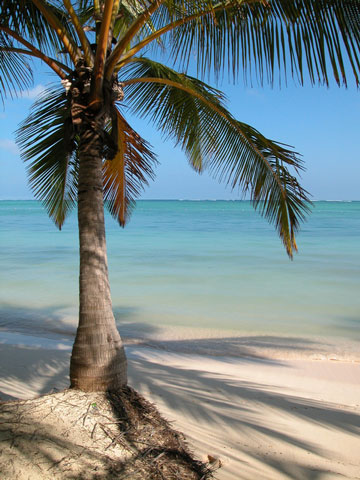 Recent Dominican Republic News
---
Other animals, including manatees, bottlenose dolphins, rhinoceros iguanas, exotic birds, and the endangered hutias, can be found in the National Park of the East. This park also features Taino Indian burial grounds, ceremonial sites, and cave drawings. Inland, you can go hiking, mountain biking, caving, rock climbing, or go on a Jeep safari, and streams offer whitewater rafting and kayaking. The Cordillera Central (Dominican Alps) mountain range rises to 10,417 feet at its highest point on Pico Duarte and provides excellent opportunities for trekking, horseback riding, cascading, and canyoning. For a less extreme alternative, golfers will find around twenty golf courses by designers like Gary Player, Robert Trent Jones, and Pete Dye.
For a little more civilization, head to the capital city of Santo Domingo, the oldest city in the New World. Many of the buildings in the city are the oldest of their kind in the New World, including the Spanish-style Cord House, the Cathedral Maria la Menor, and the Ozama Fortress. There are also plenty of museums to explore, including the Museum of the Royal Houses (originally the Spanish Royal Court), the Museum of Dominican Man, the National Museum of History and Geography, the Museum of the Royal Dockyards, and the Museum of Modern Art. In the city of Puerto Plata, the Amber Museum displays amber from the Amber Coast.
The beautiful sand beaches of the Dominican Republic are lined with palm trees and a variety of resorts. Some of these resorts are all-inclusive, almost like self-contained cities. Available local foods include tropical fruits, meat and rice dishes, and plantains and yucca. For great activities, interesting history, and flavorful Dominican food, take a vacation to the Dominican Republic.
Dominican Republic Map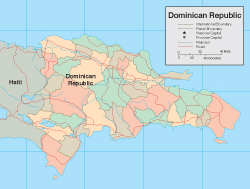 Click map to enlarge.

Featured Dominican Republic Listings
Sunrise Villa - luxury vacation villa, featuring oceanfront accommodations.
Dominican Republic Travel Information
---
Copyright © 2005-2023 Zeducorp.
All rights reserved.

Dominican Republic