Language: English (Creole and French widely spoken)
Currency: Eastern Caribbean dollar
Temperature: Average 80°F year-round
Square Miles: 290
Approx. Population: 72,000

The Commonwealth of Dominica, the largest of the Windward Islands, is a lush, green, volcanic island. It is rather poor and undeveloped, much of it covered with rainforest. Hot springs, pristine rivers, and tropical terrain make Dominica an ecotourism destination. Dominica, whose capital is Roseau, lies between Guadeloupe and Martinique. It is sparsely populated, and while the official language is English, a large part of the population speaks Creole.
Base of Trafalgar Falls, Dominica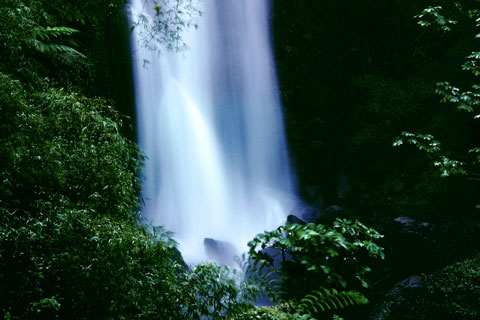 The original people of the Eastern Caribbean, the Kalinago People, call Dominica Wai'tukubuli, meaning "Tall is her body." Colonial European powers weren't interested in this rugged island, and many Carib Indians settled in Dominica after being driven out of neighboring islands. After British takeover in 1805, Dominica eventually gained independence in 1978. About 3,000 Carib people live in the 3,700-acre Carib Territory on Dominica today.
In Dominica, hot springs, sulphur pits, waterfalls, lush rivers, and black sand take the place of white sand beaches. Activities include riding the Rainforest Aerial Tram, diving, hiking, and visiting the Carib community. Whale watching is popular, and cruise ships stop at the island for duty-free shopping or tours to nature sites.
Dominica offers a variety of accommodations. There are natural resorts in the mountains and rainforest, as well as villas near the beaches. Some of the unspoiled areas make romantic backdrops for weddings. Restaurants offer special local foods such as octopus, frog legs, and crayfish, as well as land crab, wild pig, and Callaloo soup. Markets supply tropical fruits, coconuts, and root crops.
Dominica Map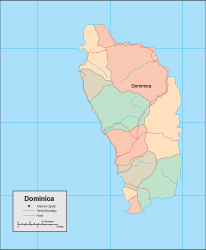 Click map to enlarge.

Dominica Travel Information
---
Copyright © 2005-2023 Zeducorp.
All rights reserved.
Dominica