Language: English
Currency: Cayman Islands dollar
Temperature: Average 78-84°F year-round
Square Miles: 100
Approx. Population: 40,000

The Cayman Islands are a British dependency made up of three separate islands: Grand Cayman, Cayman Brac, and Little Cayman. The three islands are northwest of Jamaica and have three different atmospheres. Grand Cayman is flat and commercial; Little Cayman and Cayman Brac are quiet and peaceful. While all three islands are dry and featureless, marine life and underwater coral scenery attract visitors. Three hundred dive and snorkel sites contribute to the islands' reputation as a major scuba diving destination, and diving lessons are widely available to beginners. However, visitors to the Caymans (and other Caribbean islands) often prefer to purchase their scuba gear and snorkels before their vacations rather than rent diving equipment at their destinations.
Cayman Island Beach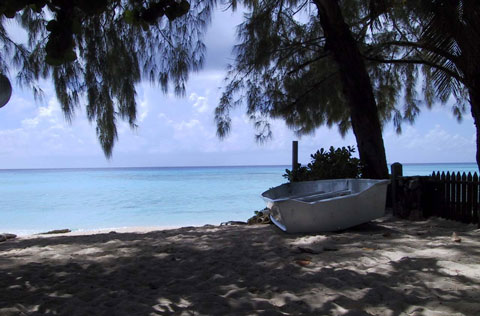 Recent Cayman Islands News
---
The Cayman Islands climate is tropical marine; the warm and rainy summer season runs from May through October while the cool and dry winter season lasts from November through April. Accommodations on the Caymans range from simple to luxurious. Dining choices range from waterfront restaurants to local eateries, from Caymanian specialties to fast food.
Cayman Islands Map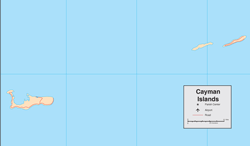 Click map to enlarge.

Cayman Islands Travel Information
Cayman Brac

"Brac" means "bluff," and rock-climbers come to the Bluff in the middle of Cayman Brac, a plateau with 140-ft cliffs and numerous caves. Among the island's dive sites, the Captain Keith Tibbets and the Oceanic Voyagers are the most popular.

Grand Cayman

Grand Cayman is the largest of the three islands, and its capital, George Town, is a popular center for offshore banking and duty-free shopping. Various attractions bring visitors to Grand Cayman: luxury resorts; two golf courses; the Turtle Farm, home to about 16,000 green turtles; the town of Hell, named for its black limestone formations; The Mountain, at 60 feet high; and Stingray City, a popular shallow dive site.

Little Cayman

Divers come to Little Cayman to visit Bloody Bay Wall, an underwater cliff; fly fishermen come for marlin and sailfish; others come to watch red-footed boobies and frigate birds battle over food.
---
Copyright © 2005-2023 Zeducorp.
All rights reserved.

Cayman Islands