Language: English
Currency: Bahamian dollar
Temperature: Average 60-75°F winter, 78-90°F summer
Square Miles: 5,382 (land area)
Approx. Population: 300,000

The Bahamas encompass about 700 coral-based islands and 2,000 cays (pronounced "keys"). These islands and cays attract tourists for a variety of reasons, including beaches, diving, and snorkeling as well as fishing, golf, and shopping. The Bahamas lie only fifty miles off Florida's coast, making them a popular destination for many Americans. The Bahamas are the largest tropical archipelago nation in the Atlantic Ocean, covering more than 100,000 square miles and containing 900 square miles of coral reefs. These islands are often considered Caribbean islands because their southern extremities adjoin the Caribbean Sea. The islands' major cities are Nassau, on New Providence island, and Freeport, on Grand Bahama island.
Recent Bahamas News
Bahamas Ministry of Tourism & Aviation's Update on COVID-19
Traveler health questionnaires and a screening protocol have been used at ports, hotels and rental properties to identify guests who may require surveillance or treatment. ...
Travel Industry Wire. Wednesday, 25 Mar 2020 11:44:44 EST.
Elk Grove Village Saw Success With Bahamas Bowl Partnership
Elk Grove Village embarked on a first-of-its-kind partnership when it became the Bahamas Bowl title sponsor in 2018. Mayor Johnson discusses how that's worked out.
By Kristi Dosh, Contributor. Forbes. Tuesday, 24 Mar 2020 19:17:47 +0000.
The Bahamas were inhabited by perhaps 40,000 Lucayan Indians when Christopher Columbus visited them in 1492. However, the islands were quickly depopulated by slave traders and were uninhabited when English settlers arrived in 1647. For many years, the islands of the Bahamas sheltered pirates, privateers, and other lawless elements. It was only about 50 years ago, when tourists began to arrive, that the Bahamas began to really prosper.
New Providence Island is the most populous island, and the historic core, of The Bahamas. The island is fairly flat and has pine barren forests and caves. Nassau, the capital city of The Bahamas, is located on this island and is the commercial hub of The Bahamas. Nassau has also expanded from New Providence Island to include Paradise Island, the hub for many Bahamas vacations. A concrete bridge across the harbor connects the two islands. Paradise Island is covered with hotels. Recreational activities on both islands include snorkeling, diving, and swimming with dolphins or stingrays, as well as deep-sea fishing and sampling Bahamian cooking. Nassau has several historical landmarks, including the Victoria Staircase, Fort Charlotte, and Fort Montagu.
Grand Bahama is the second most popular destination for tourists in The Bahamas. It is the most northerly of this island chain. Shipwrecks were numerous near this island, as the water near the Little Bahama Bank was relatively shallow. The Spanish called this area gran bajamar (the vast underwater, or the great shallows). Grand Bahama features resorts, shopping districts, casinos, and several golf courses. The city of Freeport, with its many luxury hotels and white-sand beaches, is located on this island. Port Lucaya offers duty-free shopping. Other areas of the island offer quieter and more private areas than Freeport. Caverns and wetlands attract kayakers, hikers, and bird watchers, while scuba divers thrive at sites like Ben's Cavern, Snapper Alley, and Theo's Shipwreck. The Lucayan National Park has underwater caves that are accessible by land and by sea.
The most remote islands in The Bahamas are the Out Islands, also called the "family islands." The Out Islands consist of a dozen major islands and island groups, as well as many other cays, some of them uninhabited. The Andros Islands, Berry Islands, Bimini, and the Exumas are located in the central Bahamas, while The Abacos, Cat Island, Crooked Island, Eleuthera, Long Island, Mayaguana, and San Salvador directly face the Atlantic Ocean to the east. The Inaguas are located at the extreme southeastern corner of The Bahamas. The quiet Out Islands, called "home" by most Bahamians, offer pristine beaches and unspoiled nature. Although there are luxury hotels and resorts on some of these islands, they are largely untainted by tourism. Boating, diving, and snorkeling are at their best here. Fishing and bird watching are popular activities. Some of the Out Islands were settled during the American Revolutionary War by British Loyalists who brought their slaves to work on cotton plantations. As a result, there is a rich West African heritage among the descendants of these slaves. These Bahamians and their culture are called the "real Bahamas."
Bahamas Map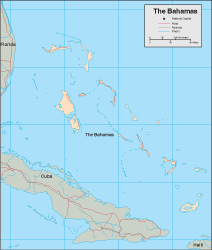 Click map to enlarge.

Bahamas Travel Information
---
Copyright © 2005- Zeducorp.
All rights reserved.

The Bahamas