Language: English
Currency: Eastern Caribbean dollar
Temperature: Average 80°F year-round
Square Miles: 35
Approx. Population: 11,500

Anguilla (Spanish for eel) is a small British territory that is located in the Leeward Islands chain. This low coral island has white sandy beaches and feels remote with its few exclusive hotels. The island's scattered trees were mostly uprooted by Hurricane Luis in 1995, and even though many have been replanted, most vegetation consists of low scrubs on the fairly dry land. There is little fertile topsoil to support crops. As a result, plantations and slavery didn't take root here. Because of this history, Anguilla produced sailors, fishermen, and boatbuilders from the people working together. There is no jetport; ferries from St. Martin are just 20 minutes away and bring most of the visitors. Salt, mined from saline ponds, once made Anguilla famous; but today, tourism helps the island to thrive.
Frangipani Beach Club at Mead's Bay, Anguilla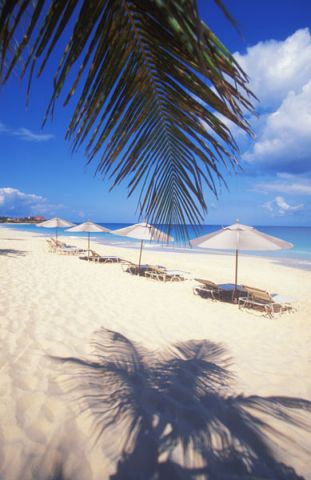 This small island hosts seventy restaurants, sophisticated accommodations, and thirty-three beaches, as well as a selection of art and craft galleries, plus a variety of land and water activities. Top restaurants include Santorini Restaurant in the CuisinArt Resort, Malliouhana Restaurant, and Scilly Cay, which may be reached by boat or helicopter. Beaches, such as Shoal Bay East, offer barbecue shacks, white sand, and calm water for snorkeling or windsurfing. Scuba divers will be drawn to the site of the 1772 Spanish galleon wreck El Buen Consejo. Animal lovers may wish to swim with dolphins at Dolphin Discovery. Activities above the water include sailing, Anguilla's national sport, and deep-sea fishing. On land, 136 bird species attract bird-watchers, a small golf course draws avid golfers, and horses and bicycles lure riders. The Heritage Collection museum displays native island artifacts.
Considering Anguilla's small thirty-five square miles, the island has a lot to offer. Nearly empty beaches, quality lodging and dining, and a wide variety of fun activities are all great reasons to visit Anguilla for your next Caribbean vacation.
Leeward Islands Map (including Anguilla)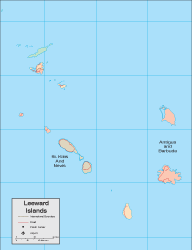 Click map to enlarge.

Anguilla Travel Information
---
Copyright © 2005-2023 Zeducorp.
All rights reserved.

Anguilla